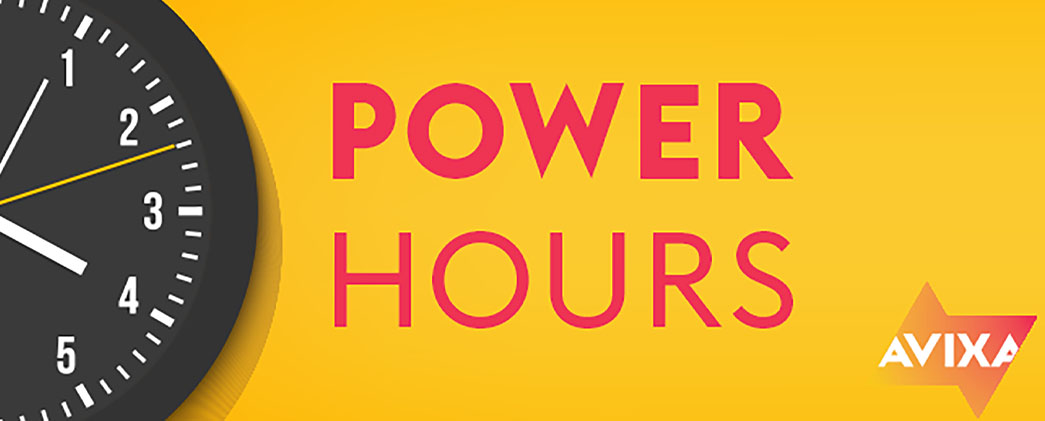 Power Hour Webinar Series Sponsorship
AVIXA Power Hours are the premier editorial webinar series for the leading solution areas in pro AV: Conferencing & Collaboration, Learning, Content, Production & Streaming, and Digital Signage. These series feature a monthly cadence providing multiple touchpoints with key audiences over the course of the year.
Power Hours are known for their roundtable discussions featuring diverse integrator, consultant, manufacturer, and end user perspectives. Tackling current challenges and pain points identified by AVIXA's market intelligence and audience input, Power Hour webinars see 40% more registrants and 33% more attendees on average than manufacturer-led webinars.
Power Hour sponsorship positions your brand as a thought leader by supporting timely exchanges, participating in collaborative panel discussions, and directly addressing attendee questions from your target audience.
Included Benefits:

Power Hour Sponsor logo listing on series email marketing, event details page, and at the beginning of each Power Hour in the series.
Verbal recognition from AVIXA staff host at webinar introduction
List of all Power Hour Opt-in registration in selected power hours
Inclusion to participate on the panel discussions for a selected number in the series based upon sponsorship level.
Premier Sponsors eligible to participate on the Power Hour Meetup. A new post event series with selected attendees invited to have a deeper dive conversation from where we left off on the Power Hour.
Please contact us for a quote on this sponsorship opportunity